The Habitat ReStore for Camden County
The Habitat ReStore for Camden County is located at 308 Keystone Industrial Park Drive, Camdenton, MO 65020 (off Old Highway 5, just three miles south of the square in Camdenton). The store sells all manner of donated items generating revenue to purchase materials to construct homes. New and previously loved items include doors, windows, vanity tops, cabinets, sinks, appliances, window coverings, furniture, hardware, dishes, etc.
Business hours: Tuesday, Thursday, Friday and Saturday 9AM-1PM | Phone: 573-317-0470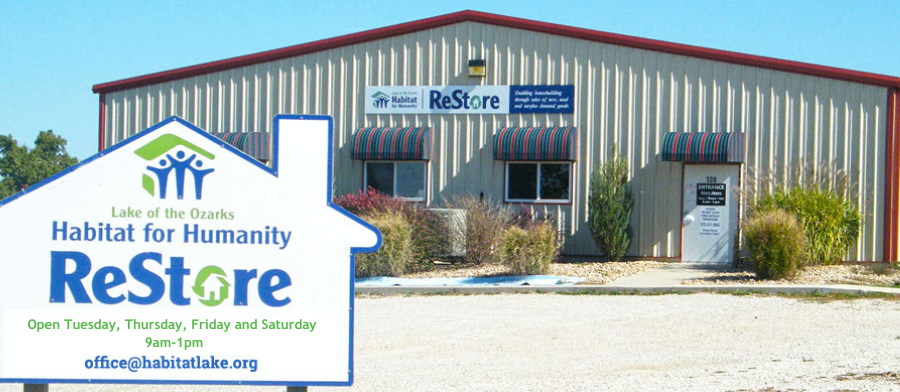 Donating items
Donations of new or previously loved items as are also accepted from individual homes and businesses during business hours.  These items must be clean and in good working condition.  Arrangements can be made to have LARGE items picked up by the Habitat truck.  Please call 573-317-0470 and leave a your name and number.  Someone will return your call shortly to make arrangements to pick up your donation.
The ReStore Needs Your Help!
Anyone interested in volunteering at the ReStore can come in during business hours and sign up.  We are always in need of:
Cashiers – Assist customers with sale of merchandise, operate cash register and make change with accuracy.  Do minor cleaning and merchandising when not busy at register.
Stockers – Assist with resale duties and stock shelves; also ensure the operational quality and safe use of donated electrical items.  Accept and ensure the quality of donations and assist customers with loading and unloading.
Truckdrivers and assistant-  Normal policy is to have two persons for donation pickups.  Lift on back and furniture dollies are provided for heavier items.
Whether it is one day a month or a couple of days a week, your time MAKES A DIFFERENCE.
ReStore Photo Gallery
Items change often – these are examples of typical inventory donated by supporters of Habitat for Humanity at the Lake of the Ozarks.